Login & User Management - Features
Simple setup of permissions via interface, no coding required on the basic integration method.
Create unlimited custom permission levels.
Restrict inline content to specific permission levels.
The flexibility to restrict music, videos, documents, any files, using the basic integration method.
Control the url to display on logout.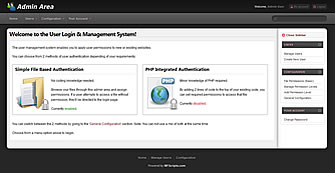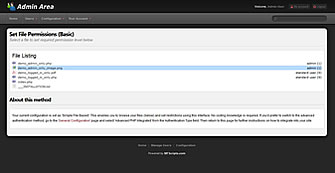 Add/Edit unlimited users.
Set expiry dates for users.
Set active dates for users.
Forgot password functionality.
Reset password functionality.
Suspend, disable, expire account.
Set permission levels on account.
Ensure your private pages & files are safely protected.
Supports all major browsers.
Externally tested for XXS and SQL injection attacks.
5 CSS templates for the admin area.
Apple Pie.
Black Rose.
Blueberry.
Gray Lightness.
Gray Standard.
Written in PHP5/MySQL.
100% full source code.
Easy installation.
Fully customisable.
5 admin area templates. (easily customise and create new ones)